HIGHLY QUALIFIED
CRAFTSMEN
When Christophe Fenwick restores and renovates his vehicles, he finds the right expertise for each intervention: whether it's a panel beater, a qualified painter, or a mechanic regulator…
To manufacture his gloves and driving shoes, he uses the same approach. His expertise consists in gathering the best craftsmen to create a network of dedicated artisans and small production units with very high-end know-how. For example, a glove maker who inherited unique skills from several generations, an expert embroiderer, an ace of the patina on soft leather, and a precise footwear technician…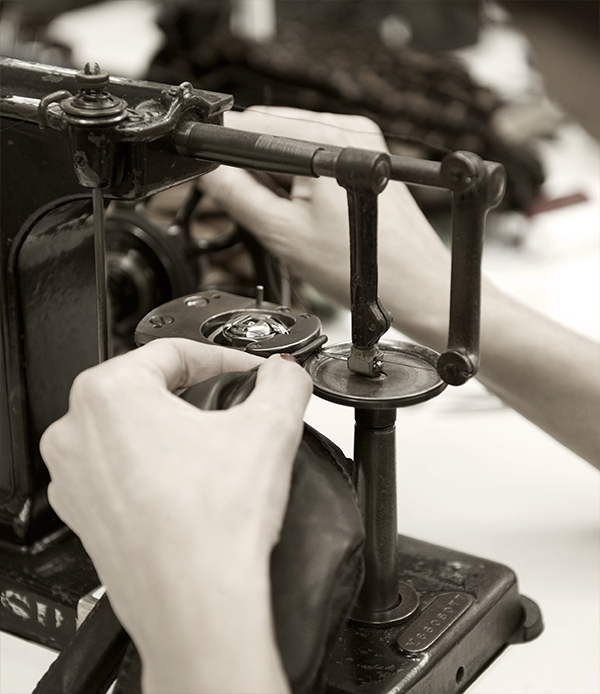 A COMPLEX
MANUFACTURING PROCESS
The Gloves
Making a Christophe Fenwick glove is a long process that requires several specific skills.
A careful selection of the right skins, 15 different steps and 3 hours of sewing are necessary for the hand manufacturing of the gloves. For some of the styles, meticulous quilting and embroidery work is also required.
Then, a patina is added onto most of the gloves with an exclusive technique that we developed. Our master craftsman, specialised in fine and supple leather, applies the patina to each pair individually, giving it a unique aspect later magnified by time.
In this process there is no economy of scale since each pair is produced individually. That is why 4 weeks are needed to fulfill your order.
The Driving Shoes
The manufacturing of our driving shoe line follows the same method: assembling the best know-how to serve a timeless and personal design. Each pair combines complex techniques, high-end materials and a very urban style.
The workshop in charge of making of our shoe collection also produces the footwear for FORMULA 1 pilots and international rallies.
The materials used come from the best tanneries and suppliers.
The shoes are available on our e-boutique in limited editions.