THE HOUSE
AND ITS FOUNDER
Christophe Fenwick is passionate about classic cars and exceptional motorbikes. He has always collected them, hunting for vintage spare parts to repair, participating in races and road trips…
As a driver, he needed gloves but couldn't find the right pair. So he designed his own, inspired by the sixties, and found an exclusive method to apply a patina on the fine glove leather. This technique allows a unique vintage look with a legacy spirit. His friends and relatives were so immediately enthusiastic about his gloves that he decided to develop a whole collection.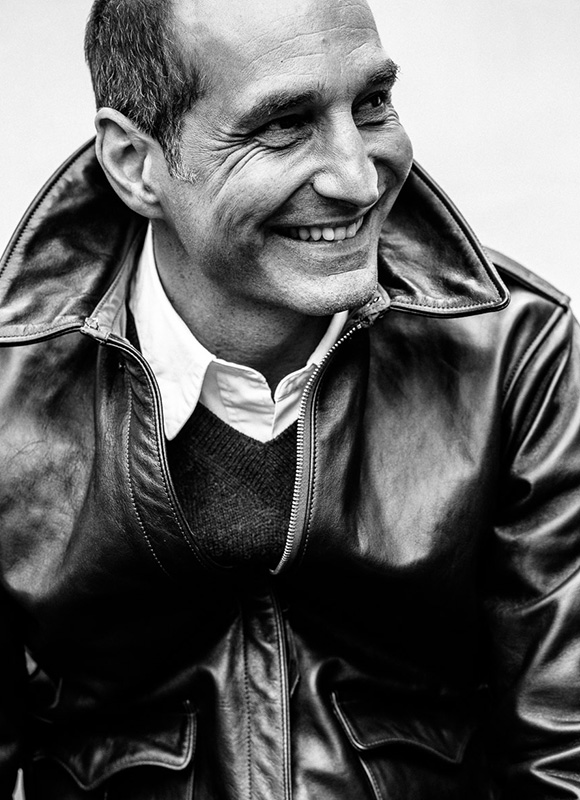 Sensitive to beautifully crafted objects, he picked the finest materials such as lamb, deer, or peccary skins tanned in Italy, Scottish cashmere and cotton knit. He also chose a reputable and dedicated manufacturing house managed by the same family for generations, as well as a small dedicated workshop for the patina. The cars and motorbikes of his dreams are his chore inspiration, enhanced by a subtle array of colours. Each piece is manufactured and dyed separately. The obsession for quality and the timeless yet modern designs turn the gloves into exceptional objects, symbols of discreet and refined luxury.
CHRISTOPHE FENWICK
A FEW IMPORTANT DATES
1965
Born in Paris, from a family of industry entrepreneurs and renowned sportsmen.
1976
At 11, his passion for mechanics and beautiful car bodies began. His current collection includes fifteen motorcycles and a workshop equipped with quality tools.
1985
Military service in the elite group of the 27th BCA of the Chasseurs Alpins of Annecy. Military Mountaineering Certificate.
1986/2000
Milan. Design and business development for Europe at Sergio Tacchini.
Bologna. Europe Sales Manager for Womenswear and Accessories at Ralph Lauren.
2000
Yearlong world trip on all continents.
2001
Creation of the 'Shoe Room St Honoré', distributing luxury accessories brands.
2014
Creation of his own eponymous glove line :
CHRISTOPHE FENWICK - HERITAGE DRIVING GLOVES
2018
Launch of his driving footwear line and evolution of the brand name : CHRISTOPHE FENWICK - HERITAGE DRIVING ACCESSORIES
"I am glad to see that my gloves are appreciated around the world by all kinds of enthusiasts, whether they are for driving or a more urban use." Christophe Fenwick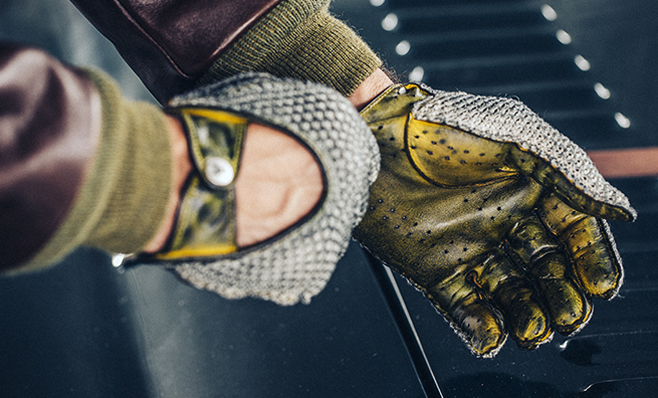 THE SIGNATURE PIECE
The TYPE LM 72 style was the first created by Christophe Fenwick. Like his motorcycles, this pair of gloves is the link between the past and the present.
It connects the tradition of precise craftsmanship with the spirit of timeless authenticity. Inspired by the golden age of motor sports, the gloves are given a certain patina and lined with a cashmere layer.
The leather patina, made by a master craftsman, makes each pair unique and personal. The Scottish cashmere provides warmth and softness.
The TYPE LM 72 style now exists in different materials: lamb, deer and sheep shearling.
INFINITE SHADES OF COLORS
The colour palette of patinated leathers is balanced around three ranges for Men and Women: the palette of Almost Black colours (black charcoal, vintage navy and vintage English green), the palette of Chestnut colours (vintage ebony, cognac, brown rust, burgundy, iced brown) and the palette of Aged colours (smoky grey, vintage yellow, malachite-green, aged red, vintage purple, old English white).
The cashmere colour palette used to line the leathers is just as subtle and varied. It allows a true play of nuances and contrasts, to draw inspiration from particular aesthetics such as a classic car, a custom motorcycle, or a personal outfit.
The wide range of available fabrics, which are all made from natural fibers, allows for the design of specific and exclusive pieces.